Dying for a massage? Hair needs to be done? Looking for a much needed manicure and pedicure? Look no more- just open your browser and go to bfab.my. What's this website you ask?
First, find the service you would like to engage in- from haircut to spa to facial and many more! Check out the services that are available. After that, select it and make an appointment. Yes, it is all done online, anywhere! How convenient, right? It's really a pain to Google the nearest shop, then Google the business hours (if any) and then contact number. If that's not enough, you also need to Google for the price (seriously?!?). So much time wasted on just researching for ONE place.
Another added feature that I like is the list of other services a shop offers. I want to be able to get my hair and nails done at the same place, if possible. No more rushing to another destination to get a different treatment. In a way, this feature is able to help you in your schedule if you have a super tight one 🙂
Bfab.my makes your life much more easy. You only need to go to the website, select the desired shop and make an appointment. I can't remember the countless amount of times I have struggled to find contact numbers online to book for an appointment, this website is definitely bookmarked!
They're also having a 15% of everything until the 31st of March. Just use the code 'giveme15' or click the banner below.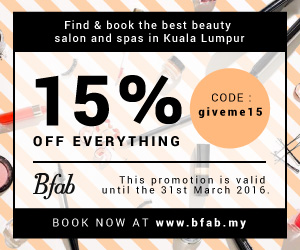 Having said that, I'm in dire need of a massage! I've been saying it ever since I gave birth but never got the time to actually go. Soon for sure!